Does
I will be listing some grown does in the next few days, some with kids, some I just weaned their kids. All top quality, productive does. Pictures, prices and information coming soon. If you would like to see what I have before I get them posted, please email me.


Show Wethers/Bucks
Cuger's Absolute Flash Point
Cuger's Absolute Flash Point
Cuger's Absolute Flash Point
Flash Point-Fullblood-$1250
Flash was born 2/10/2018 and he absolutely outstanding. He is a mahogany and white paint that is built like a battleship. Four white socks and a white tip on his tail. He is long and wide with a beautiful hip and rear. He is show quality and will make an awesome herd sire. His sire is Cuger's Absolute Bullet Proof, ABGA# 10764055. He has not been handled much since he was to remain a buck, but is not wild. I just wormed and trimmed him and he was good while I did it. This boy has ennoblements on both the sire and dam's side. Don't miss this opportunity to add some great genetics to your herd. He is 2Dox Cuger and Coni Ross genetics. Flash is big, gorgeous and ready for the ladies!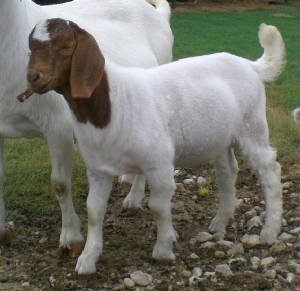 Bud
Bud -
$350
Born 4/1, Bud is the sweetest and tamest boy and would be perfect for a first-time exibitor. He is very well-built, long and stout. Excellent for Fall and Winter shows.