Show Wethers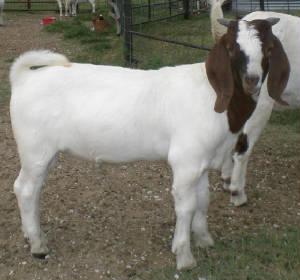 #G8 Pistol Pete
Pistol Pete-Fullblood-Sold
Pistol Pete was born 5/20. He has not been dehorned as his breeding is so good and I hate to make him a wether too soon in case someone wants him for a herd sire. He is a 2Dox Cuger grandson and has ennoblements on both sides. He was a little underweight because he is a triplet and his mother barely had enough milk for them all, but he is weaned and eating feed well now. He would have to have a cosmetic dehorn by a vet for the county shows, but would not if kept a buck. I will be banding him in a few weeks, so if interested in him for a buck, let me know soon.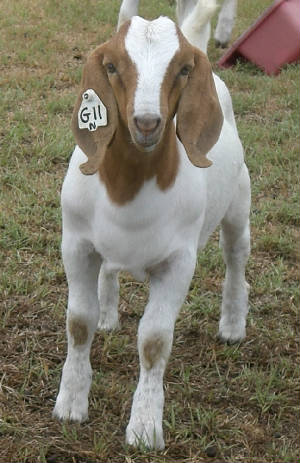 #G11 Nacho
Nacho - Sold
Born 6/5, Nacho is absolutely gorgeous! He is thick and long and wide and will make a showing at your show! He has the most wonderful personality. Super friendly and tame.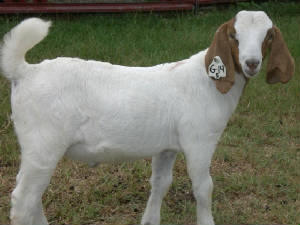 #G14 Beamer
Beamer - Sold
Born 6/5, Beamer is another knock out! He has an amazing build with a beautiful rear end, level back and great loin. Gentle and tame, very curious.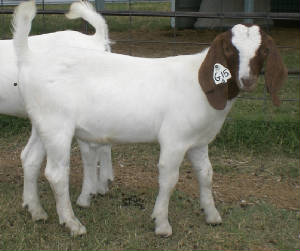 #G15 Jag
Jag - Sold
Born 6/5, Jag is the smallest of triplets and the brother to Beamer. He has had a hard time getting enough groceries from his mom, because of his bigger brother and sister hogging. He's eating feed now and will start catching up. He has a very pretty rear and very long loin. Not as friendly as his brother, but he will come around.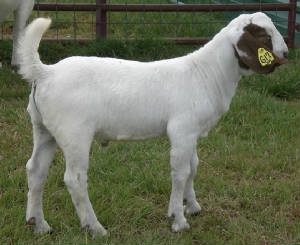 #G17 Hank
Hank - Sold
Born 6/8, Hank is a hunk! I would venture to say he is the best show wether born this year. Stout, long, wide and a rear that won't quit. Hank is super friendly, loves to be scratched and will make a great show goat.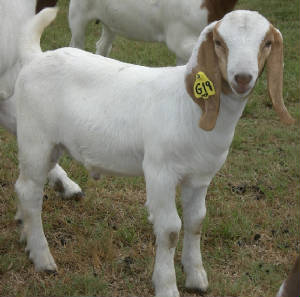 #G19 Waylon
Waylon - Sold
Born 6/10, Waylon is perfect! Long loin, thick and a very nice booty. He is the twin to Willie. Where Willie isn't overly friendly, Waylon will be in your pocket. Absolute love bug!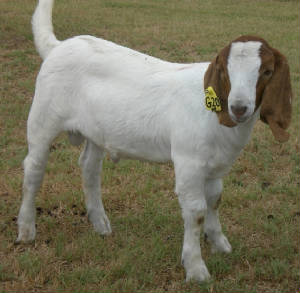 #G20 Willie
Willie - Sold
Born 6/10, Willie and Waylon are twins and I hesitated to use this picture as it doesn't do him justice. He is a beautiful boy and is out of one of my best does. She has produced a number of winners. You'll just have to wait for a better picture or see him in person!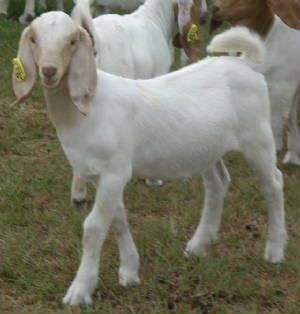 #G21 Casper
Casper - Sold
Born 6/11, poor Casper has had a hard time of it! When he was born his mother wanted nothing to do with him and gave all her attention and milk to his sister, Della. He's been a bottle baby since he was born, so he is very sweet and wants to be loved. He is growing and starting to eat feed, so will catch up soon. Come see him! Very pretty boy, long and tall.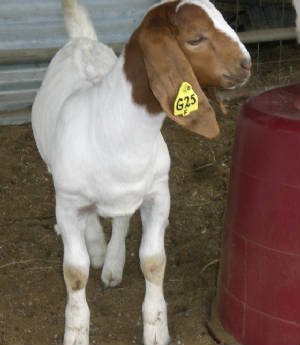 #G25 Topper
Topper - Sold
Born 6/13, Topper is the most elegant show wether! Long, wide and perfectly square in his stance. He's a triplet and is still as big as the other show wethers. Not one of the more friendly boys, but not wild. Sometimes that makes better show wethers!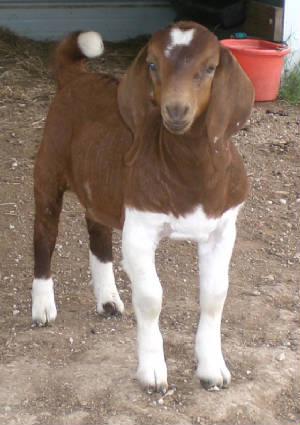 #G26 Handsome Jack
Handsome Jack - Sold
Born 6/27, Handsome Jack is a bottle baby, born to my oldest oldest oldest old doe. Never knew she was pregnant until she had Jack. If he was a girl, I would never sell him, he is so beautifully built. He is incredibly wide, long and just an amazing boy. Uber friendly, flashy, and stout. He would be perfect for a first timer as he is so sweet and tame.